Block-2-Block Mission

The Problem: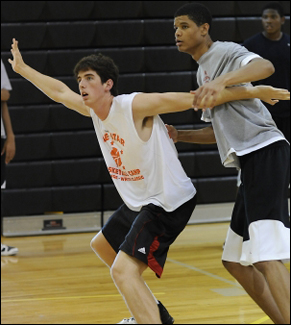 Too often in today's game post players are underutilized and often ignored both in games and in training. Over the course of a post player's career, they are only asked to do the simple things like be physical and rebound. Through this they never develop the skills and understanding to become a dominant presence on their teams. Unfortunately, in today's game, the void in quality post development is clearly recognizable.

The Block-2-Block Solution:

We have made it our mission at Block-2-Block to fill that void and help develop post players to again be a focal point of every game. Through focused and detailed instruction, each player will learn all aspects of post play and understand the role he should be playing on his team. Block-2-Block's staff is experienced not only as teachers of the position but have had experience and success playing the position as well. Because of this each player will receive instruction from qualified post coaches who played the position and understand the details that are needed to become a dominant post player.

The Block-2-Block camp experience is not typical. Over the course of the camp, we will maximize learning time and teaching will take place through on the court instruction, classroom/video work, lecture, and competition. This camp is geared toward the serious player who is ready to work hard and focus to get the most out of their camp experience.